Name:
Andrea.
Age:
19.583.
Sex:
Grrrrrl, though I'm increasingly ascribing to the genderqueer school of thought.
Sexual Preference:
I'm a 5 on the Kinsey scale.
5+ Bands
Hanson. Fuck yeah -- I'm not ashamed!
Queen.
Ani DiFranco.
The Juliana Theory (R.I.P., boys. R.I.P.).
Averi.
Jimmy Eat World.
Eva Cassidy.
Elton John.
Clay Aiken.
Kelly Clarkson.
Wicked.
RENT.
Aida.
Chicago.
The Phantom of the Opera.
Boston.
Kansas.
Meatloaf.
Lynyrd Skynyrd.
Pink Floyd.
Anna Nalick.
'NSYNC (they're one of the many skeletons in my proverbial musical closet).
Interests?:
Writing [
Zis
is my writing LJ]. Being introverted. Being awesome. Playing the harmonica (My "Home on the Range" will bring tears to your eyes). Tattoos & piercings. Poetry. Proper grammar. Being on an eternal quest for a 4.0 and self-actualization. Being an R.A. MySpace. Political activism (I'm a political-campaign junkie!). Hating political apathy -- if you don't vote, we can't be friends. Women. Women writers. Seamus Heaney. Taking walks at night alone on creepy streets. My iPod. Running. Bandanas & track jackets. Everything gay.
The L Word
. Being a strong, passionate, intelligent individual. Photography. Writing on notebook paper with ballpoint pen. Pretty sentences.
Prettiest member?
: I don't know you kids well enough to pick a favorite. But, y'all are all women-loving, so that makes you all hot by default.
Promotions:Userinfo:
http://oblivxion.livejournal.com/profile
One:
http://community.livejournal.com/_lj_promo_/2424485.html
Two:
http://community.livejournal.com/_promo_city_/1018757.html
Three:
http://community.livejournal.com/_le_chic_/211793.html
Extras?:Write whatever you want here:
I have a severe phobia of apples. We're talking I can't go near them, smell them, see them, touch them -- heck yes it's ridiculous.
I think life is about living. The most exhilarating feeling is waking up in the morning. There's way too much to be happy about in life to waste my life away in tears.
Speaking of tears, I used to be afraid to cry -- but now I'm not, and I cry all the time.
Being single is quite possibly one of my favorite things in the world. I feel so free when I am ... though I don't mind relationships, either.
5-100 pictures, plus a 100x100 for the userinfo/members page:

This was a couple months ago, before my hair grew out. That was definitely the coolest my hair has ever been.



I'm of two minds on this picture: Some people say it's a good one; other people say it makes me look like a one-toothed hick.



This is what happens when you use poor grammar in my presence.



He might not be a pot-bellied pig, but he is the only man I will ever let sleep in my bed. His name is Happy.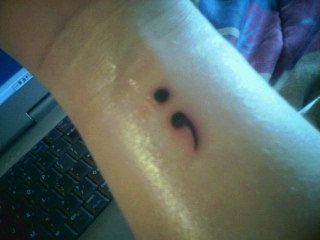 Easily my favorite of all my tattoos.




Yarrrgh, 100x100, matey: